Indian classical is going on since 3000 years. Only India is a country in which we are having two variations of music one is classical music & the second is Carnatic music. If we have to see which one came earlier then, it's obviously classical music.
In past times the saint & spiritual persons use to sing ragas & bhajans to communicate with their god. That's why we say, music has a spiritual taste which anybody can feel while learning.
So, today I'm going to talk about some interesting or you can say unknown facts about our Indian classical music. So, read it carefully.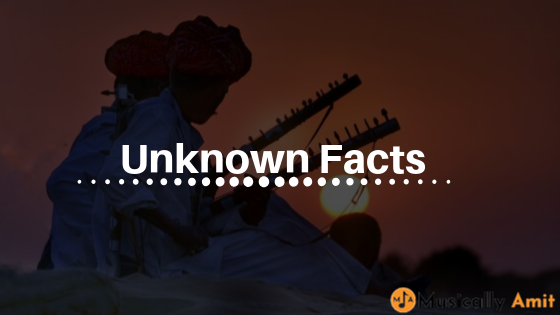 First Classical Music School
The First Classical Music School in India is "Gandharva Mahavidyalaya" in Lahore (which was then a part of India). It was set up by "Pandit Vishnu Digambar Paluskar" on 5th May 1901. Digambar was an Indian classical musician born in Kurundwad (a town in British Bombay Presidency) .
The school was running by donation & funds collected from concerts and donations. Vishnu returned to Mumbai on September 1908 to start a branch of the Gandharva Mahavidyalaya. Eventually, the Lahore school was shifted to Mumbai after Independence.
Oldest Gharana
Gwalior Gharana is the oldest gharanas in Hindustani Music, it is one of the oldest Khyal Gharana. There are many Gharans that actually originated from Gwalior Gharana. Nathan Peer Baksh and Nathe Khan were the two people who founded Gwalior Gharana the 16th century.
First Women Shehnayi Player
The first woman shehnai wadak of India is Bageshwari Qamar. Renowned Guru Ustad Bismillah khan taught her. She made her debut in the year 1983 and was crowned as "Shehnai Queen" at Chandigarh. Apart from her solo recordings, she has also recorded "jugal-bandi" with her teacher Ustad Bismillah Khan. In 1988 she represented India at "The Bharat Mahotsav" in Russia.
Harmonium
And the most amazing fact is that you must have seen that we use harmonium at the beginning stage of learning classical music. And the irony is that harmonium isn't an Indian instrument.
It was first by Alexandre Debain in 1840 in France, who patented his Harmonium in Paris on August 9, 1840. In this instrument, he used a pressure winding system, with free reeds. Since that time his invention is used by many others.